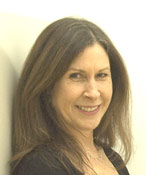 Betsy Goodenough, designer and owner of Heavens To Betsy!, a unique stationery business in Ridgefield, Connecticut, started selling her boxed notecards in August 1998. She has increased her product line which now includes magnetic notepads, hard cover, wire bound journals, greeting cards, gift enclosure cards and pocket journals.

After graduating from Skidmore College in Saratoga Springs, New York, with a Bachelor of Science in studio art, Betsy moved back to her home state of Connecticut. She worked for several advertising agencies and design firms before starting her own graphic design business. As the owner of Betsy Goodenough Design, some of the many projects Betsy has worked on include advertising and sales promotion for Waldenbooks; catalogs, invitations and trade show exhibit design for the Fancy Food Shows; packaging for General Foods; annual reports for Unicef and brochures for Sotheby's International Realty.

One afternoon, Betsy opened up her journal and started brainstorming. "I wanted to use my creativity and design ability to create an original, appealing product." Stationery came to mind and Betsy began making notecards for family and friends. Soon after, Heavens To Betsy! was born. All of her products feature designs from antique engravings and woodcuts, printed on high quality, 100% recycled paper. "I fell in love with the old images and thought they could be used to make beautiful stationery." From her past experience she knew the importance of attractive presentation. "It's the first thing that catches a person's eye." Great care goes into the packaging of Heavens To Betsy! products. All products are packaged in a protective cello sleeve. The Notecard Packs and Notepads are hand-tied with either natural color raffia or a colorful cord to make a special gift.

In May of 1999, Betsy displayed her cards in the National Stationery Show for the first time, at the Jacob Javits Convention Center in New York City. Her cards were chosen to be in a special exhibit of the "Best New Products" at the show.

Living and working out of her cozy cottage on a lake, Betsy finds inspiration every day in the natural beauty which surrounds her. When Betsy's not working at her business, she can most likely be found kayaking, hiking, or playing with her calico cat, Bailey.

Yes, Betsy's last name is pronounced just as you would think. People frequently ask "is that your real name or did you make it up?" Goodenough is her real name, and is of English origin. Betsy feels fortunate that she has a name that people always remember!